How to apply
For maximum effectiveness:
- Apply directly to the affected area of the scalp.
- Do not apply to damp scalp.
- Avoid contact with water after application of EUCAPIL®. Thus, wash hair as late as possible after application to give EUCAPIL® a maximum chance to work.
Application:
Carefully snap off the top of the prescored ampule by applying a minimal amount of force.
Place applicator tip on the open ampule. Apply in front of a mirror.
With the head tilted back to facilitate its distribution and to prevent exposure to the eyes, apply EUCAPIL® directly to scalp (not to hair).
With ampule in an inverted position, apply in a circular motion while repeatedly squeezing the applicator.
Gently massage into scalp.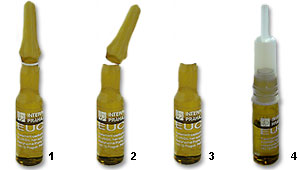 How and when to use EUCAPIL®:
The recommended use is one ampule (2 ml) per day, applied on the scalp at bedtime.
Composition:
One ampule (2 ml) contains isopropyl alcohol, Vitis vinifera (grape seed oil) and fluridil (CAS 260980-89-0).
Packaging:
30 ampules, each containing 2 ml.
Storage:
Store below 25 °C. Keep out of direct light.